Welcome to the Shuffle Wiki
Heroines of Shuffle!
This is a wiki for the visual novel/anime Shuffle! that follows the romantic life of Rin Tsuchimi, a high schooler, who finds himself being sought after by a variety of girls. This wiki allows anyone to edit or improve the articles published. So far, we have 67 articles to edit!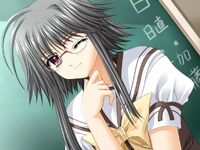 Mayumi Thyme is a heterochromia-eyed girl, who is in Rin's class, good friends with Kaede and is always looking for news.
---
She has the smallest bust size in the series, a fact often made fun of by Rin and Itsuki. Nonetheless, she takes pride in her small breasts.

Main article: Mayumi Thyme
Did you know.....?
....that Shuffle! was Navel's first visual novel?
....that Shuffle was featured in the 3D virtual world " Ai Sp@ce"?
....Shuffle!, Tick! Tack!, and Really? Really! have all been released in English?
News
The Shuffle! spin-off, Really? Really! was released June 6, 2014 in English. You can support MangaGamer by buying the game at here.
Just So You Know...
Warning: This wiki contains spoilers within the Shuffle! series.
Handy Links
Latest activity
|}